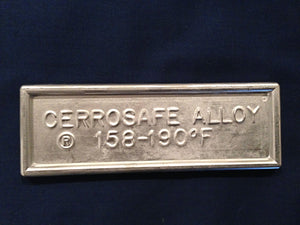 Cerrosafe
Cerrosafe
Product # LB150005    Alloy #4250-2
Orders ship in 1-2 days.  Orders over 10 lbs. are fulfilled with 2 lb. ingots (slightly thicker ¾" H), unless noted on order you want 1 lb. ingots. 
Weight: 1 pound (sold by the pound, not the piece) 
Dimension: 4½" L x 2" W x 

½

" H

Non-Eutectic Alloy 

Contains the following metals - Bismuth, Lead, Tin and Cadmium

        

Melting Temperature 160-190º 

F or 71.7-87.8º C

Density .341 lbs./In3

      9.4 g/cc

Shrinks initially, grows 

to .0000" in 1 hour and continues to grow to .0025".
Originally made for toy soldier casting. Principal uses are in proof casting cavities (threads, dies, molds, blind holes, gun barrels); Duplicate patterns in foundry match plate making: supporting work pieces while machining; pray coating wood patterns. Dental lab techniques (swaging, jacket crowns); Masks for electroplating and spray.  Chamber Casting Alloy
---
We Also Recommend
---