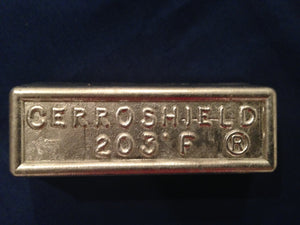 Cerroshield
Cerroshield
Product # LB400002    Alloy #5250-1
Orders ship in 1-2 days.  Orders over 10 lbs. are fulfilled with 2 lb. ingots (slightly thicker 1" H), unless noted on order you want 1 lb. ingots. 
Weight: 1 pound (sold by the pound, not the piece) 
Dimension: 3" L x 1" W x ¾" H

Eutectic Alloy

Contains the following metals - Bismuth, Lead, and Tin

Melting Temperature 203º

F or 95.0º C

Density .351 lbs./In3       9.71 g/cc

Rapid immediate growth 

to a maximum .0061" per inch.
Cadmium free alternative to Bolton 158 used in radiation therapy.
---
We Also Recommend
---