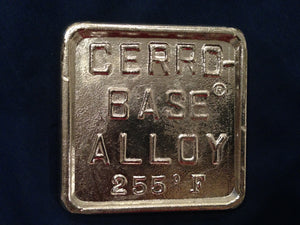 Cerrobase
Cerrobase
Product # LB120002     Alloy # 5550-1
Orders ship in 1-2 days.  Orders over 10 lbs. are fulfilled with 2 lb. ingots (slightly thicker ½" H), unless noted on order you want 1 lb. ingots.
Weight: 1 pound (sold by the pound, not the piece) 
Dimension: 3" Square x ¼" H


Eutectic 

Alloy

Contains the following metals - Bismuth and Lead

Melting Temperature 255º F or 124.0º C

Density .38 lbs./In3   
10.3 g/cc 

Initial shrinkage followed by slow growth with a maximum of .022" per inch.
Alloy is used to anchor: cutlery handles, inserts in wood, metal plastic; metal parts in glass. Make fusible spinning chucks; mandrels for electroforms; drop hammer dies, stretch form blocks; molds for plaster, plastics; filler for tube bending (tubes over 1-3/4" diameter); hydrodynamic forming; seamless fittings; duplicate patterns in pottery and foundry; liquid metal in autoclaves, heat treating
---
We Also Recommend
---