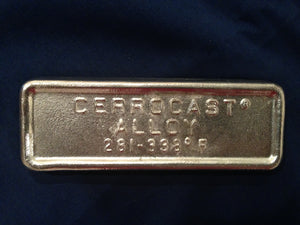 Cerrocast
Cerrocast
Product # LB130002    Alloy # 4000-4
Orders ship in 1-2 days.  Orders over 10 lbs. are fulfilled with 2 lb. ingots (slightly thicker ½" H), unless noted on order you want 1 lb. ingots.
Weight: 1 pound (sold by the pound, not the piece) 
Dimension: 4½" L x 1½" W x ½" H

Non-Eutectic 

Alloy

Contains the following metals - Bismuth and Tin

Melting Temperature 281-338º 

F or 138.0-170.0º C

Density .296 lbs./In3   

8.2 g/cc 

Maximum shrinkage only 

-.0001" per inch.
Parallels Cerrotru (Bolton 281) in its end uses and is preferred by some for fusible mandrels for electroforming, lost wax pattern dies and proof casting large dies and molds due to greater dimensional accuracy, holding jet turbine engine blades for machining. More ductile and less brittle than Cerrotru (Bolton 281).
---
We Also Recommend
---