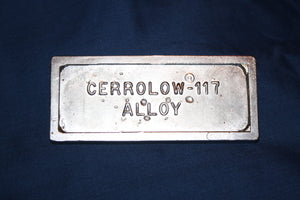 Cerrolow 117
Cerrolow 117
Product LB210002    Alloy #4470-2
Orders ship in 1-2 days.  Orders over 10 lbs. are fulfilled with 2 lb. ingots (slightly thicker ½" H), unless noted on order you want 1 lb. ingots.
Weight: 1 pound (sold by the pound, not the piece) 
Dimension: 4½" L x 2" W x 

¼

" 

H

Eutectic 

Alloy

Contains the following metals - Bismuth, Lead, Tin, Cadmium and Indium

Melting Temperature 117º 

F or 47.2º C

Density .32 lbs./In3   

8.9 g/cc

 Initially expands then shrinks to .0000" in 30 seconds: stable in 2 hours at -.0002" per inch.
Cerrolow 117 alloy is used in jigging or fixturing delicate parts for machining (honeycomb), dental models, prosthetic development work, proof casting (internal measurements), fusible element in safety devices, radiopaque contrast medium in X-ray, low temperature solder and many hobby (casting) applications.  
---
We Also Recommend
---